35000RPM Strong 210 Micromotor Dental Micro Motor 102L Handpiece Electric Drill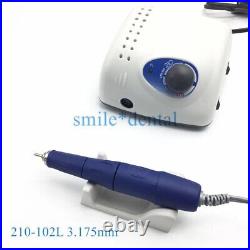 Rated volage :110V-120V/60HZ, 220V-240V /50HZ(Please set the voltage before using the machine) 2. Rated Speed:0-35000RPM(Max) 5. Plug:EU if you need other plug, please leave message Instructions 1. Turn the speed control counterclockwise to decelerate the grinding head to the minimum before turning off and switch the main power source to 0 3. When adjusting the speed, do not press the right switch button, wait for the handle stop and then press 5. Furlong idle time, please disconnect the source power Can be selected. You can choose only handpiece or 210 box. Whole set packing list: 1x Main Machine; (EU Plug) 1x Handpiece; 1x Foot W witch; 1x Handpiece Support 6x Drill Bits 1x User Manua(English) Handpiece packing list: 1.
35000 rpm Handpiece 1pc 2. Carton Brush 1 set 3. Chuck Wrench 1pc 210 Micromotor packing list: 1x Main Machine; (EU Plug) 1x User Manua(English). Or, you can choose to get a replacement. Our goal is to ensure a happy shopping experience with us.