40000RPM Electric Nail Drill Manicure Machine With Brushless Motor Nails Sander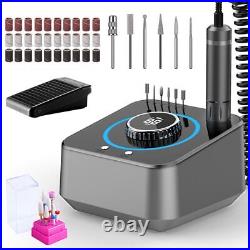 Model: YK601 Electric Nail Drill Power:40W Output: 5V/2A Output Voltage:DC 0-18V Rotate Speed: 0-40000RPM Grinding diameter :2.35MM Color:White/ Black/ Pink / Grey Main machine size:14013085mm Input Voltage: AC 110V/220V, 50HZ/60HZ Material: Aluminum + ABS + Stainless steel. Nail drills for acrylic nails: low vibration, low noise, not heat up Electric nail files professional: 0-40,000 rpm adjustable, high speed, powerful (40W) and cut your prep time in half; for nail tech, beauty salon or beginner art nail DIY use at home E file machine with a foot pedal works as an extra on/off button when your hands are busy Electric manicure and pedicure tool: remove cuticle, feet hard skin, callus on the natural nails; polish and grind gel nails and Acrylic nails; perfectly shape your nails Nail drill set accessories: comes with 6 nail drill bits and 6 nail drill sanding bands; small size and lightweight, 6 bit holders to save your frequently used drill bits Professional services: YOKEFELLOW nail machine provides you with a safe and high-quality nail experience. We provide 24-hour customer service. Remember when the machine shows Er (error), please turn off the machine first, check all the wire if it was loose or did not plug tightly.
Also need to check if the pen was unlock. After doing this, you can turn on the machine to check, it will be work normal.