Dental Marathon Lab Electric Micromotor 35K RPM / Slow Handpiece Drill Burs Cups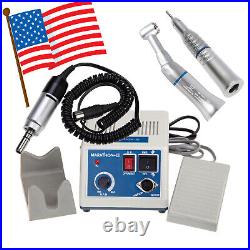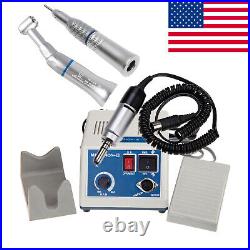 Multipurpose Micromotor for dental, laboratory, jewelry, industry. Good work for polishing, Cutting, milling, trimming, grinding, casting moulds or materials and finishing surface. Dust seal protection for excellent durability.
Installed special ball bearings for super high speed(less heat and noise). Another virtue is non-stage speed system (it's well designed to output from 0--- 35,000rpm by using non stage speed system).
Handpiece:Simple and easy operation (twist the handle counter-clock wise to change the bur and can be easily restored back to the original position). Optional On / Off Foot Pedal Witch (The pedal only a switch, not can be control the speed). Automatic stop and resetting when overload is caused. Available Voltage for worldwide users. Low Speed 22,000-27,000 rpm.
The shank of the instrument mounted therein is 2.35 mm. Fastening of the instruments with a turning latch. For any lab or E-type motors. Rated Operating Air-Pressure: 2.5 Mpa-4.0Mpa. Latch Type Contra Angle Fit RA/CA.
Straight Handpiece Fit HP Dia. Means For Sterilizing: Prevacuumizing, Autoclave. Product Name: Latch type polishing cups. Application: Polishing The Tooth Surface, Achieves a High Shine quickly. Material:High Quality Nature Rubber(TPE). Cup Diameter: 6.3mm/0.25In. Shank Diameter: 2.33mm/0.9In.
High elasticity, effective polishing and removal of stains. Nature rubber material, Disposable, clean, Health and safety. 10PCS Tungsten Carbide Steel Burs Dia. 10 different types: M06, P06, D06, C06, F06, L06, L04, L02, C02, G06. 100% High Quality & Brand New.
Above is 10 Box Mixed Types as above photo provided. Tungsten Carbide Made, nice work for dental lab polishing machine. 2.35mm compatible with Marathon handpiece & dental lowspeed straight handpiece. Food & Drug Administration and state and local regulatory agencies. If you have questions about legal obligations regarding sales of medical devices, you should consult with the FDA's Center for Devices and Radiological Health. This dental items is not meant to replace your doctor diagnostic.
It is mainly for your piece of mind and comfort. Regulation Number: 21 CFR 872.6070.
FDA for Handpiece : 510(K) Number: K181691, Regulation Number: 872.4200, Classification Product Code: EFB, Subsequent Product Code: EGS. FDA for Scaler : 510(K) Number: K163414, Regulation Number: 872.4850, Product Code: ELC.